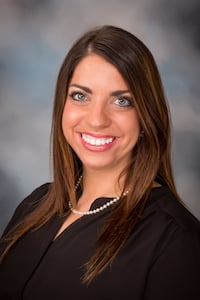 JESSICA FARRIS SALONUS
ATTORNEY
Ms. Salonus is an Employment and Special Education attorney serving clients throughout Tennessee.
Ms. Salonus zealously represents employees in array of employment matters including cases of age discrimination under the ADEA; leave issues or interference under the FMLA; disability discrimination, retaliation, and failure to accommodate claims under the ADA; discrimination and retaliation under Title VII; and wrongful terminations arising from reporting illegal activities. Ms. Salonus also has an interest in litigating cases involving denial of employee life insurance benefits or interference with pension plan benefits under ERISA.
While she very much enjoys assisting employees and "righting a wrong," as they say, or assisting employers with legal compliance to prevent claims or illegal treatment of employees, her biggest passion comes from assisting families of children with disabilities in the school environment.
Ms. Salonus has a personal understanding of what it means to be a parent of a child with a disability. Accordingly, Ms. Salonus has an active and dedicated practice securing the services and accommodations a child rightfully deserves under the Individuals with Disabilities in Education Act ("IDEA"), Section 504, and/or the ADA. She also seeks compensation for physical and/or emotional injuries caused to a child as a result of abuse or illegal actions taken against the child by school officials. Additionally, Ms. Salonus litigates cases involving retaliation against parents or teachers who advocate for the rights of children with disabilities.
EDUCATIONAL BACKGROUND & BAR ADMISSIONS
Ms. Salonus attended Louisiana State University on a full academic scholarship, graduating with honors with a Bachelor of Science degree in Management. While at LSU, Ms. Salonus was a member and Vice President of Finance of the Delta Gamma sorority. She then received her law degree from the University of Memphis, where she also graduated with honors.
While in law school, Ms. Salonus was awarded the Dean's Award for Excellence for Best Appellate Brief and CALI Excellence for the Future Awards in Legal History and Juvenile Law. She was also the recipient of the Sam A. Myar, Jr. Law Scholarship, Kathryn Hookanson Law Fellowship, and Donald & Susie Polden Dean's Scholarship. In addition, Ms. Salonus was a member and the Managing Editor of the University of Memphis Law Review.
Ms. Salonus is admitted to practice before the Tennessee Supreme Court, all Tennessee trial and appellate courts, and the United States District Court for the Western, Middle, and Eastern Districts of Tennessee.
MEMBERSHIPS & ACTIVITIES
Ms. Salonus is a member of the Jackson-Madison County Bar Association, the Tennessee Bar Association, the National Employment Lawyers Association, and the Tennessee Employment Lawyers Association. Ms. Salonus is also an active member of the Council of Parents, Advocates, & Attorneys ("COPAA"), an outstanding organization of advocates and lawyers for students with disabilities. Ms. Salonus was selected to serve as a Staff Attorney for COPAA.  In that capacity, Ms. Salonus assists the organization in writing Amicus Curiae briefs on behalf of students with disabilities throughout the country as well as position statements to educate COPAA's members on new legislation or court opinions.
Additionally, Ms. Salonus was an Associate Member of the Howell Edmunds Jackson American Inn of Court from 2012-2014 as well as a member of the Tennessee Bar Association's Leadership Law Class of 2015.
Ms. Salonus is also an avid supporter of the Jackson Symphony, serving on their Board of Directors and Audience Advancement Committee.
PERSONAL
Ms. Salonus resides in Jackson, Tennessee with her husband, Graham, and two little boys, Grey and Jack. When not working, she enjoys spending time with her family golfing, boating on Kentucky Lake, and supporting the Tennessee Titans and LSU Tigers.
Students and employees are entitled to schools and workplaces that are free from discrimination, provide opportunities, and enable them to advance their goals. Tennessee attorney Jessica Salonus and The Salonus Firm are ready to guide you through the legal process. We serve clients who need an employment or special education lawyer in Jackson, Memphis, and Nashville, as well as other areas of Tennessee. Contact us at 731-300-0970 or via our online form to send your inquiry and receive a prompt response (typically within 48 hours) from The Salonus Firm.